LIFE-STAGES
Kids Toothpaste Comparison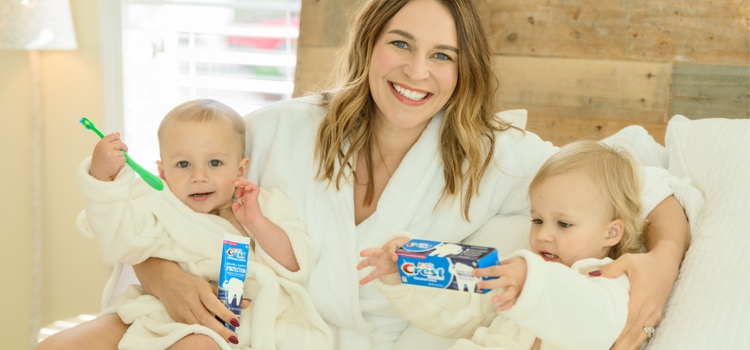 Finding the Right Kid's Toothpaste for Your Child
No matter how old your child or baby is Crest has a toothpaste that will help them learn good brushing habits early on, help protect their growing smiles, and make brushing more fun. In this article we'll break down a selection of our best toothpastes for kids, so you can better identify which is the best for your baby or child's needs.
Baby Toothpaste:
The Crest Baby Training Toothpaste with Winnie the Pooh is designed especially for babies and toddlers ages 0-3. It's formulated to gently clean baby teeth and delicate gums. Plus, babies will love the mild strawberry gel flavor.
Toddlers and Young Kids:
For kids ages 3 and up we recommend the Crest Kids Toothpaste with Flouride. The #1 toothpaste for kids* is specifically designed to deliver effective cavity protection for developing smiles. The mild paste formula helps to strengthen enamel as adult teeth begin to make their debut. With exciting flavors like Bubblegum and Strawberry, and their favorite Disney and Marvel characters, brushing has never been more fun.
For an added level of fun, Crest Kids Advanced Color Changing Toothpaste goes from blue to pink to indicate the 2-minute dentist-recommended brushing time. The exciting color-changing formula keeps kids brushing up to 2X longer to help them establish a good oral care routine from an early age.
*P&G calculation based on U.S. reported sales data for yr. ending w/o 5/27/23.
Kids 6+:
For kids ages 6 and up, Crest Kids Enamel + Cavity Protection Toothpaste provides the protection their growing smiles need. The ADA-accepted formula rebuilds tooth density for stronger teeth by fortifying weakened enamel and comes in a fun Strawberry flavor. It helps protect the tooth's enamel from sugars and acids* and contains fluoride to effectively fight against cavities.
Encourage good brushing habits even more with help from with the interactive Disney Magic Timer App from Oral-B—kids brush the dentist-recommended 2 minutes and have a blast while doing so! Let them keep up the good work by brushing 2X/day, flossing at least 1X/day, and visit a dental professional at least 2X/year for professional cleanings, check-ups, and personal recommendations.
*strengthens enamel to protect from plaque acids with regular brushing