SOLUTIONS
Bleeding Gums: Causes, Treatments, and Prevention

What do Bleeding Gums Mean? Bleeding Gums Causes Treatments: How to Stop Bleeding Gums
While caring for your teeth is important, many people forget the value of caring for your gums as part of a complete oral hygiene routine. Gums are the foundation of a healthy mouth and if you're not taking care of them, you're at risk of developing oral health issues. If you notice any instances of bleeding gums, it can be a sign of a more serious oral health issue such as gum disease.
Problems such as bleeding gums can be a sign that your gumline is not being properly cared for and may need more attention. While you don't need to panic if you notice that your gums bleed, you do need to take action to help prevent the progression to a more advanced form of gum disease. Most commonly, gingivitis (inflammation of the gums) is the result of plaque – a sticky film of bacteria forming on the teeth around the gumline or under the gums. Plaque bacteria can lead to gum disease, tooth decay, and even tooth loss.
According to the CDC, while research shows that one in two Americans have some form of gum disease, approximately only three percent seek professional treatment. According to the American Academy of Periodontology (AAP), this difference between the prevalence of gum disease and the low levels of professional treatment can likely be blamed on a lack of understanding of the effect periodontal disease can have on overall health. Some studies suggest that periodontitis (a form of advanced gum disease) may be associated with other health conditions such as heart disease and diabetes, so it shouldn't be taken lightly. Untreated periodontitis may lead even to tooth loss.
The Most Common Cause of Bleeding Gums
In most cases, gums bleed because of the harmful plaque – and the millions of bacteria in it – found at or around the gumline being left to develop gingivitis. Gingivitis, a mild form of gum disease, may require treatment and an improved oral hygiene routine to help reverse it. To help keep your smile healthy, be sure to follow a complete oral care routine of brushing twice daily for at last two minutes and flossing once a day. For more gum care reinforcements, try swishing with a mouthwash specifically formulated for gums like Crest Pro-Health Breath Purify and Gum. The unique formula is clinically proven to promote a healthier gumline by reducing redness and swelling.
Other Causes of Bleeding Gums
If you don't have gingivitis, but still suffer from bleeding gums, don't ignore the problem. According to the CDC, Gingival (gum) bleeding can also be caused by:
Certain bleeding or medical disorders
Vitamin deficiencies
Hormonal changes or pregnancy
If you notice any bleeding from your gums, make sure to visit your dental professional right away for proper diagnosis and treatment. Treatments: How to Stop Bleeding Gums
There are many ways to help improve your oral health and keep your gums from bleeding. Since gingival bleedings are mainly due to inadequate plaque removal from the teeth at or around the gumline, starting an effective oral hygiene routine is a great way to help treat and prevent your gums from bleeding. Here are some oral hygiene tips that will help you keep your smile healthy and help prevent or reduce gum redness, soreness, and bleeding:
Brush at least twice a day: Make sure to brush the dentist-recommended two minutes every session to better remove any plaque that can lead to gum disease and tooth decay. Consider switching to an electric toothbrush like the Oral-B iO Series 9 which removes 100% more plaque than a regular manual toothbrush. Plus, you can brush with the Oral-B app to help track any instances of gum bleeding, improve your oral health, and better protect your smile.
Brush with Anti-Gingivitis Toothpaste: If you struggle with bleeding gums, you may want to consider a sensitivity toothpaste like Crest Gum and Sensitivity toothpaste, it targets the root cause of the issue for immediate relief within days and clinically proven healthier gums.
Floss Daily: Flossing is one of the most important ways to help prevent bleeding gums and maintain good oral health. It removes plaque and food particles that may be just under the gumline that can lead to gum issues such as bleeding and swelling. Pair traditional floss with an Oral-B Water Flosser to further wash away any leftover debris and plaque bacteria from tight spaces.
Combine for Best Results: For best results, use multiple products together to keep your mouth, gums, and teeth healthy. A comprehensive system made up of a variety of products that work well together can include Crest Gum Detoxify, Gum Care Mouthwash, Oral-B Electric Toothbrush.
Avoid Tobacco: Tobacco use of all types can damage your gums and can also make you far more likely to develop gum disease.
See a Dental Professional Regularly: Harmful plaque bacteria can even lead to issues beyond gingivitis like weakened tooth enamel. The cleaning performed twice a year at your dentist's office will remove plaque and tartar that can't be removed at home. This will help prevent gums from bleeding and keep your mouth healthy.
Maintain a Healthy Lifestyle: The American Dental Association (ADA) recommends eating a balanced diet and avoiding between-meal snacking. Also, reducing stress from your life can help prevent gum disease to keep your smile healthy.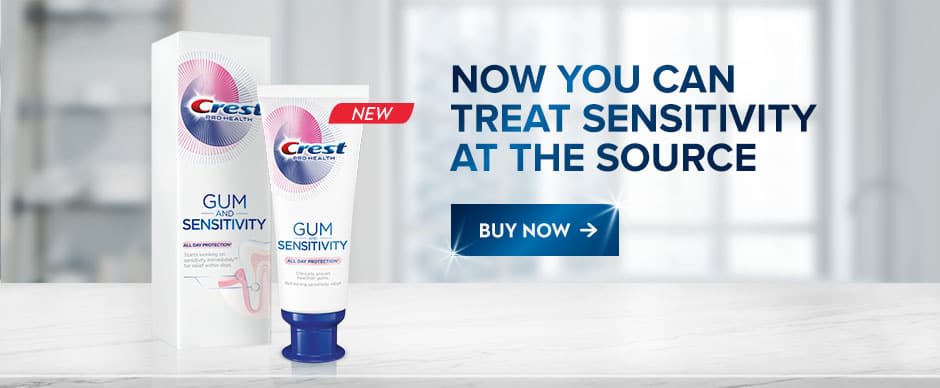 Sources: