TOOTHPASTE
What Is Stannous Fluoride Toothpaste?

What is Stannous Fluoride? How Does Stannous Fluoride Work? Stannous Fluoride Products Stannous Fluoride Toothpastes
What is Stannous Fluoride?
All fluorides are not created equal. Stannous fluoride is used in oral health care products to help prevent tooth decay and strengthen weakened enamel. However, it's also unique among fluoride alternatives because it offers multiple benefits not found in sodium fluoride or sodium monofluorophosphate.

When you add food and fluids to the saliva in your mouth, that equals fertile breeding grounds for the plaque bacteria needs to grow. That spells trouble for your tooth enamel. Fluoride in toothpaste is extremely effective at strengthening plaque-damaged enamel, so if you want strong teeth without cavities, it's recommended you brush using a toothpaste with fluoride as an active ingredient.

The most commonly used fluoride sources today are stannous fluoride, sodium fluoride, and sodium monofluorophosphate. But stannous fluoride has multiple benefits not available to other fluorides.
How Does Stannous Fluoride Work?
Not only does stannous fluoride deliver cavity fighting fluoride, it also has properties that:
Fight plaque
Inhibit plaques growth and ability to attach to oral surfaces
Reduces bacterial byproducts that lead to gingivitis.
In addition to protecting against plaque and cavities, stannous fluoride also helps prevent sensitivity pain from triggers such as hot or cold liquids and foods. Stannous fluoride is the active ingredient in Crest Pro Health and Crest Gum toothpastes, and protects against plaque/ gingivitis, tooth sensitivity and cavities, making it the only fluoride source that fights all three. It also provides protection against erosion and bad breath. And while sodium fluoride protects against cavities, it doesn't provide protection from these other conditions.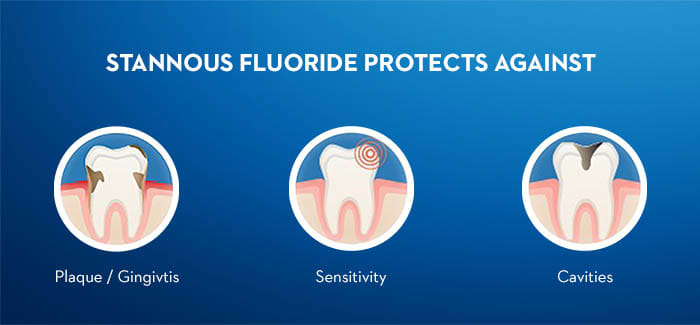 Stannous Fluoride Products
But early stannous fluoride wasn't perfect. It required skill and expertise to ensure that it worked properly and tasted good in your mouth. However, through decades of innovation, Stannous fluoride is now a viable ingredient in toothpastes, most notably Crest, which has the largest portfolio of stabilized stannous fluoride toothpastes available for better oral health.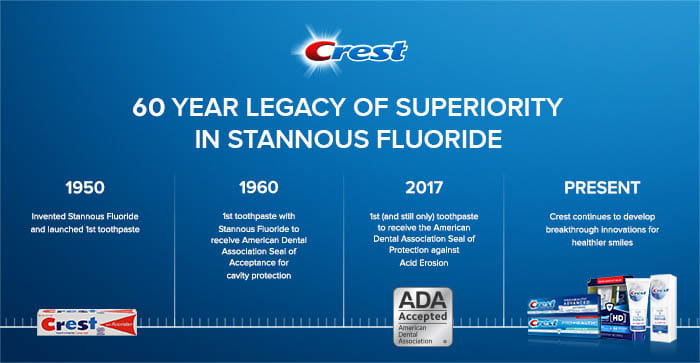 Crest Pro-Health Toothpaste with ActiveShield™ stays on teeth for 12 hours and protects against cavities, plaque, tartar, gingivitis, acid erosion, bad breath and sensitivity in one tube. And it whitens your teeth, too.


Stannous Fluoride Toothpastes:
All toothpastes with fluoride fight cavities. But a toothpaste with stannous fluoride , like Crest Pro-Health or Crest Gum, provide the same anti-cavity protection, but with other the added benefits of plaque, gingivitis, acid erosion, and sensitivity safeguards.

Crest Pro Health Advanced Deep Clean toothpaste provides enhanced benefits that help protect against areas dentists check most, and is the only toothpaste with the ADA seal of acceptance for protection against acid erosion.

Crest Gum & Enamel Repair with ActiveFoam™ seeks out plaque bacteria below the gum line to help reverse gingivitis and repairs weakened enamel.