Oral-B iO Electric Toothbrush: Team Captain Of The Teeth Whitening Squad
Think of your teeth whitening routine like an all-star team of professional athletes. Every product has a role to play in delivering you the smile you deserve – clean, healthy and bright. And everyone knows the best teams in the world synergize and are greater than the sum of their parts.
Crest has built such an all-star team of products to make you smile.
Crest presents a full suite of effective and affordable teeth whitening products for use in your daily routine. Here, we want to break them down and explain the roles they play in ensuring your teeth remain pearly white. These whitening solutions will help you remove the pesky stains caused by your favorite beverages, like coffee and soda.
Your Crest Whitening team of core products work together to give you a brighter smile:
The bottom line: Crest knows how to whiten teeth. Let's explore the Crest Whitening all-star team!
Crest 3DWhitestrips: Your Star Player in Whitening Your Smile
Crest 3DWhitestrips can be considered the superstar player at the center of your teeth whitening regimen. They remove years of stains, apply quickly and easily and provide whitening results lasting over 6 months. Using whitening strips means not having to worry about messy (or expensive) trays, and the no slip grip means Crest white strips stay comfortably in place for the whole treatment. Depending on the type you choose, whites strips only need to be on for 30 minutes, 45 minutes or 1 hour to give your smile an instant impact.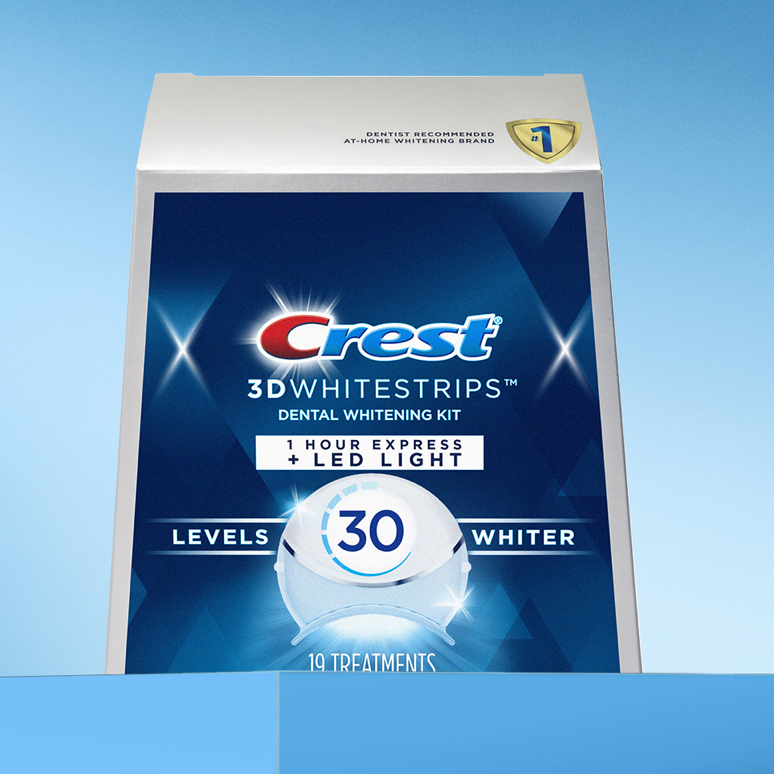 Crest white strips are the main reason why we are considered the #1 dentist recommended at-home whitening brand in America.* They can be used efficiently, hands-free and as part of morning or night routines. Just apply, take care of some chores or watch your favorite show, and then peel off and get ready to smile.
The Crest 3DWhitestrip experience can also be amplified by using the LED Accelerator Light for an additional whitening boost.
*In a survey of over 500 dentists from January 31-April 26, 2022
Crest 3D White Toothpaste and Mouthwash: A Defense to Protect Your Smile
Everyone uses toothpaste morning and night, and many pair it with mouthwash as well. Why not implement a whitening solution within the paste and wash formula used on your teeth every day? That's just what Crest 3D White provides, with efficacious whitening formulas inside of these everyday products.
For example, the Crest 3D White Professional Enamel Protect Toothpaste utilizes clinically proven whitening ingredients and can help produce whiter teeth in just 3 days of use! Alternatively, Crest 3D White Brilliance Mouthwash helps remove surface stains in hard-to-reach areas, resulting in a whiter smile in 7 days.*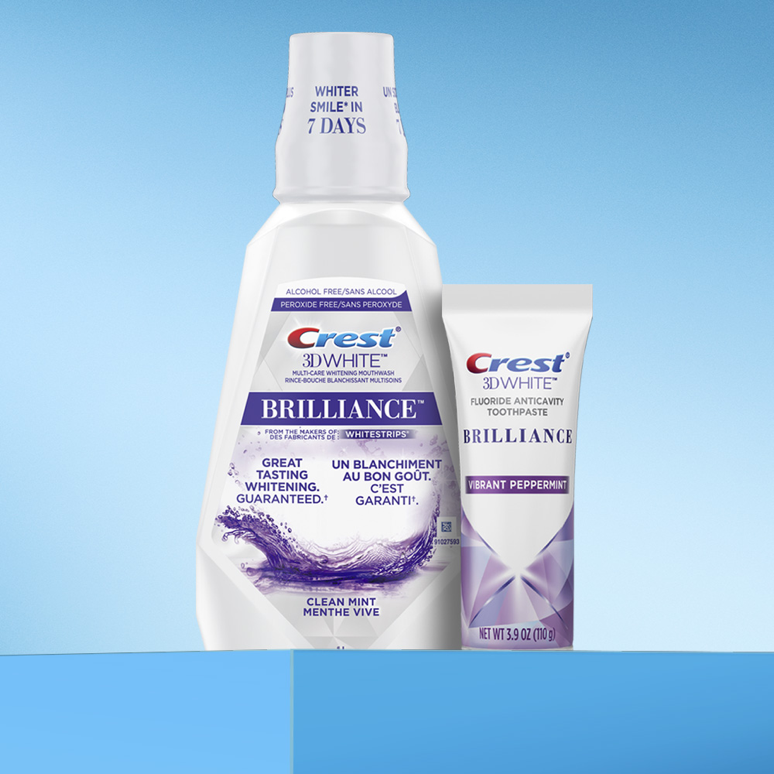 Overall, their whitening results may not be as heavy-duty as Crest 3DWhitestrips, but toothpaste and mouthwash have an important defensive role to play in your teeth whitening playbook. Because they can be used every day, the results add up – and provide support to more intense teeth whitening products used in tandem.
The Crest 3DWhite family of products presents some of the best whitening toothpastes and mouthwashes on the market today.
*With brushing by removing surface stains
Crest Whitening Emulsions: The Clutch Player Delivering Results Every Day
Crest Whitening Emulsions provide a special function within the teeth whitening game. They're a leave-on solution, which means you can apply and go about your day with no need to brush or rinse off. This new technology represents one of the most innovative teeth whiteners in the oral care world. Think of Whitening Emulsions as the clutch player on the team – who performs exceptionally day in and day out.
Altogether, Crest Whitening Emulsions are enamel safe for daily use, with virtually no sensitivity, and can remove 10+ years of stains in just 14 days alone. They stay on longer than toothpaste to remove tough, set-in stains below the enamel surface.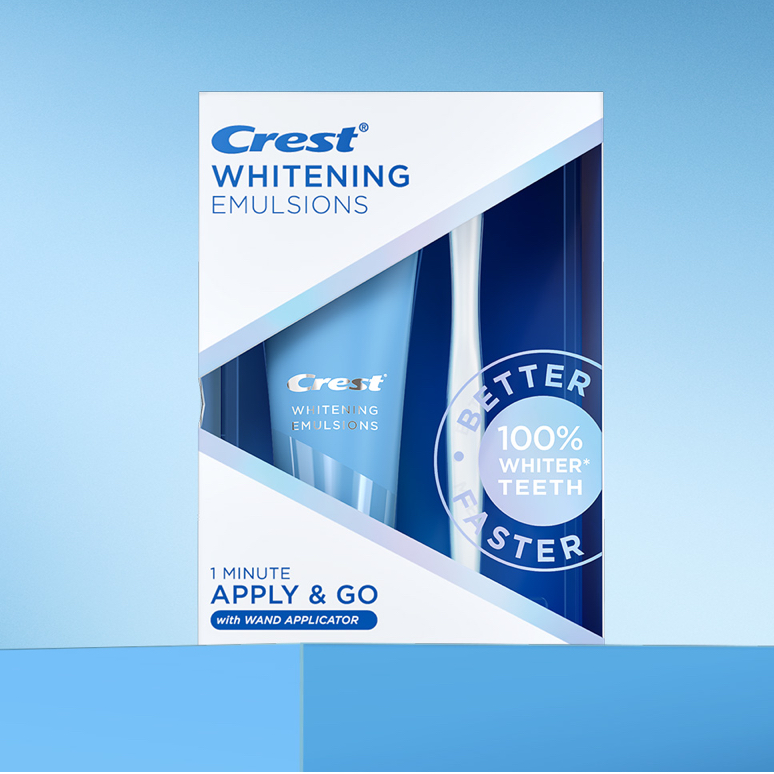 They are best utilized to touch up your smile before an event, or as a tag team alongside your Crest 3DWhitestrips routine. In fact, because of the versatility of Crest Whitening Emulsions, this is a product that can sub in at any point in your teeth whitening regimen. When you need some "clutch" teeth whitening performance in the weeks before a wedding or party, these will do the trick.
Crest Whitening Emulsions can also be used with the LED Accelerator Light to more rapidly break down teeth stains – and accelerate your whitening results.
Oral-B iO Electric Toothbrush: Team Captain of the Teeth Whitening Squad
Last, but certainly not least, you need to consider what toothbrush you will be using to clean and whiten your teeth with. Oral-B's suite of manual and electric toothbrushes provide an excellent tool to do both.
Call your toothbrush the captain of your teeth whitening regimen, because before you can whiten your smile, you'll need your teeth to be clean and healthy. The goal of any great toothbrush is to lead the way in providing oral care – and that's just what Oral-B will do for you.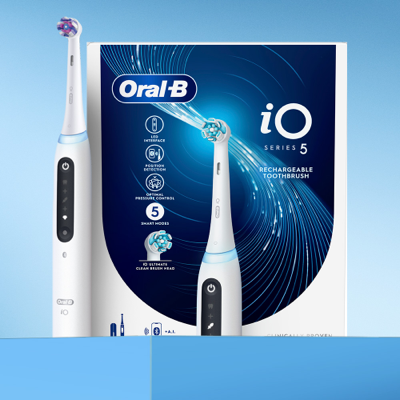 The Oral-B iO Series 5 Rechargeable Electric Toothbrush provides an unforgettable clean with gentle micro-vibrations and a dentist-inspired round head. The special bristles on the brush head even protect your gums while you brush.
The Oral-B + Crest Brilliance Whitening Bundle is simply one of the best teeth whitening kits you can buy. This bundle includes products across every step of the teeth whitening routine – all in one handy, efficiently priced package.
Crest is Your Source for Full-Service Teeth Whitening
Everyone loves when a team comes together. Crest Whitening and Oral-B combine to provide an all-star teeth whitening experience. Consider your own oral care routine and how you can implement every major player within your regimen.
Crest is the #1 dentist recommended at-home teeth whitening brand in America.* Our team of products is 100% guaranteed to bring you a noticeably whiter smile. As always, Crest is here to ensure your championship smile shines!
*In a survey of over 500 dentists from January 31-April 26, 2022