TEETH-STAINS
How to Remove Nicotine Stains from Teeth
How Nicotine Affects Your Smile How to Remove Nicotine Stains from Teeth
Aside from other serious health risks, nicotine, whether chewed or smoked, can affect both the health and appearance of your smile. Nicotine can leave a yellow or brownish hue on your teeth while also affecting the health of your gum line. Here's everything you need to know on how to remove nicotine stains from teeth and how to keep your smile healthy.
How Nicotine Affects Your Smile
Smoking or chewing tobacco can wreak havoc on your teeth and gums. For most smokers, especially after long-term nicotine use, teeth can take on a yellow or even brown hue. Which is why this type of discoloration is often referred to as "smokers' teeth."
Plus, tobacco use can also adversely affect your gums. Continuous nicotine use can cause gum infections and may lead to gum disease. To avoid gum damage, it's best to avoid smoking. However, a thorough oral hygiene routine should also be followed to help minimize the hazards nicotine may have on your smile.
How to Remove Nicotine Stains from Teeth
Fortunately, there are things you can do to remove nicotine stains from your teeth and help keep your smile healthy.
Teeth whitening strips like Crest 3DWhitestrips with LED Light can help remove over 15 years of tough, set-in stains. This at-home treatment is ADA-accepted, safe and effective when it comes to whitening your smile.
Teeth whitening pens are a great go-to, especially when you're on the move. Crest Whitening Emulsions can help reveal a brighter smile fast. Plus, when paired with an LED accelerator light, the whitening formula can further break down stains more rapidly for even better teeth whitening results.
Whitening and gum care toothpaste can help remove surface stains while also protecting your gum line. Crest Gum Detoxify + Whitening 2-step Toothpaste helps neutralize plaque bacteria around the gum line to treat and prevent early gum disease. To further remove nicotine stains from teeth, pair the whitening toothpaste with 3DWhitestrips for ultimate teeth whitening.
Professional dental cleaning is a must, especially when dealing with smokers' teeth. Be sure to see your dental professional every 6 months for cleanings and checkups.
Restorative or cosmetic dentistry are also options; however, they are quite expensive.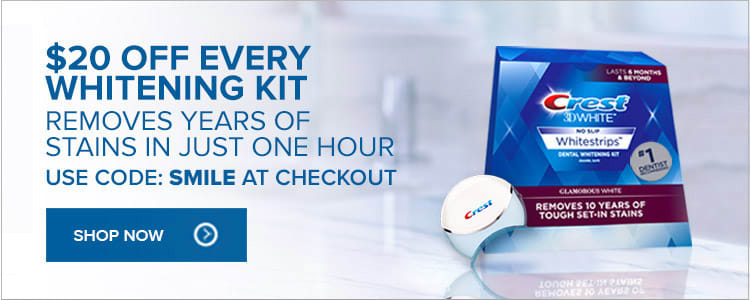 To continue to maintain a bright and healthy smile it's important to follow a thorough, daily oral hygiene routine of brushing 2X/day for 2 minutes and flossing at least 1X/day. You can also help protect your gums from the early stages of gum disease and strengthen enamel with a simple swish of Crest 3D White Diamond Strong Mouthwash.
Depending on the state of your smile, the right course of stain-fighting action to take can vary. Speak to your dental professional about which teeth whitening method is best for you.
Sources:
https://www.dentaly.org/us/oral-health/smokers-teeth/
https://www.healthline.com/health/how-to-remove-nicotine-stains-from-teeth#whitening-options
https://www.stonybrookdental.com/how-to-effectively-remove-nicotine-stains-from-your-teeth/