TEETH-WHITENING
At-Home Teeth Whitening for a Brighter Smile

Finding Time for Home Teeth Whitening Finding the Best Way to Whiten Teeth at Home A Variety of Options for Teeth Whitening at Home Questions Related to At-Home Teeth Whitening
If you've considered teeth whitening but going to the dentist for professional whitening isn't an option for you or you're worried about the effectiveness of at-home whitening, Crest 3D White Whitestrips Professional Effects provides the highest level of whitening from Crest. Designed to be worn 30 minutes a day, once a day, these strips will provide noticeable whitening in just three days, with full results after 20 days. Best of all, the results you attain will last up to twelve months, providing you with a whiter, brighter smile throughout the year.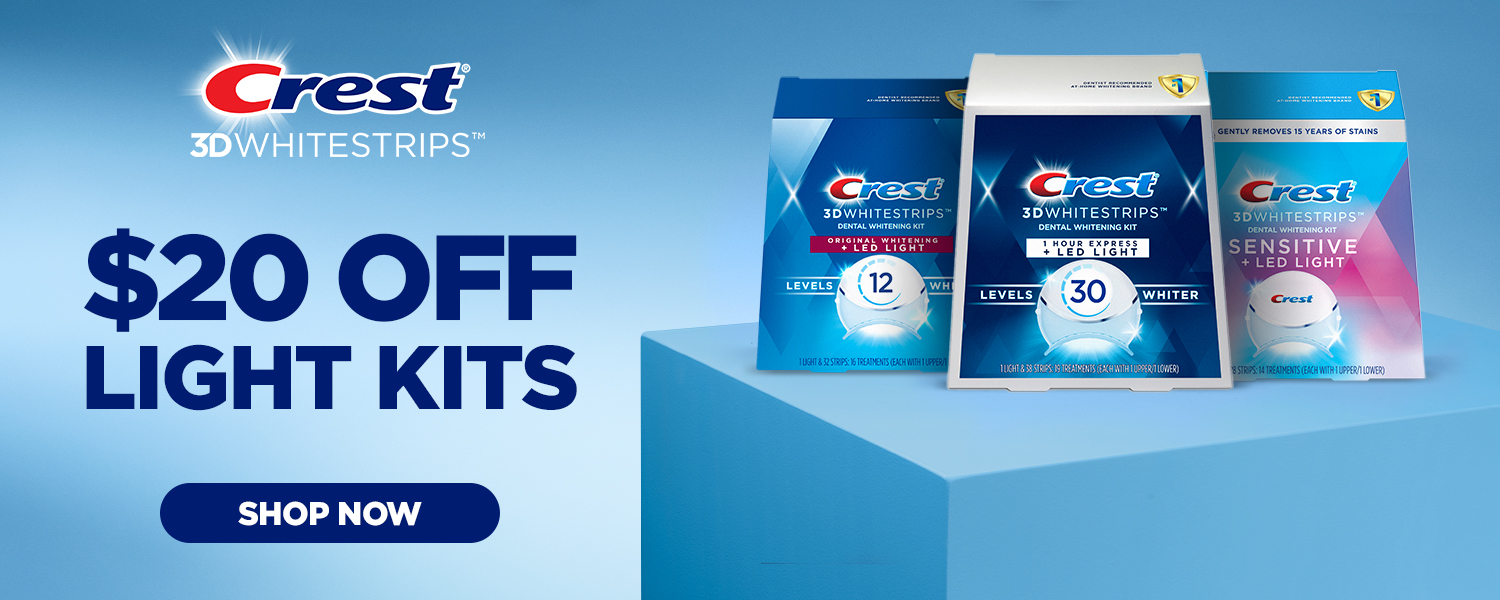 Finding Time for Home Teeth Whitening
Do you lead a busy lifestyle, but want to fit whiter teeth into your routine? Do-it-yourself teeth whitening offers a great alternative to paying someone else to do it for you. If you take pride in accomplishing health and beauty tasks on your own and enjoy the comfort of being in your own home, do-it-yourself teeth whitening may be the best whitening option for you.
Home teeth whitening kits are a great option that can fit into any schedule. You can use home teeth whitening products in the evenings or weekends, and you can achieve whiter teeth discreetly in the comfort of your home.
Finding the Best Way to Whiten Teeth at Home
At-home teeth whitening can be accomplished in many ways. Crest 3D White Classic Vivid whitens by deep cleaning and using the same effective whitening ingredient that dentists use. Home teeth whitening is a cost-effective way to achieve whiter teeth, and some products yield visible results in just a few days. When choosing home teeth whitening kits, consider your schedule and the level of sensitivity to whitening products you have, and read the labels to find the home teeth whitening products that are right for you.
Start by selecting a product: There are many at-home whitening products available, so do your homework and find the type that best fits your lifestyle. For example, if you only have five minutes a day to whiten, don't pick a product that requires an hour a day. Chances are, you might get overwhelmed and won't follow the instructions properly. This can lead to unsuccessful whitening and frustration.
Have a schedule: To keep it simple, you may want to whiten teeth at home with an annual whitening schedule. For example, try to whiten teeth at home each year around your birthday or the first of the year—it's an easy way to remember to keep your smile bright and beautiful. Teeth whitening at home makes it easy to get a beautiful smile in the comfort of your own home on your own schedule.
Don't forget to talk with your dentist: No matter what do-it-yourself teeth whitening product you're considering, talk with your dentist before you get started. If you have teeth sensitive to whitening, your dentist may recommend a lower strength product or a product that requires a minimal application time per day. Once you get approval from your dentist, you'll be thrilled to find that it's easier than ever to begin a do-it-yourself teeth whitening program.
Advances in cosmetic dentistry have made teeth whitening at home easier than ever, with a wide variety of options available at your neighborhood drug store. If you have questions about teeth whitening at home, it's always a good idea to talk with your dentist.
A Variety of Options for Teeth Whitening at Home
There are a number of options for tooth whitening at home—from gels, strips, and pens to whitening rinses and toothpastes. Each of these products offers a varying level of whitening, and believe it or not, some may actually work well in tandem.
Products from Your Dentist: In recent years, at-home teeth whitening has taken off. One method first requires you to be fitted for a custom mouthguard/tray by your dentist. Once your tray is ready, you also purchase a bleaching solution from your dentist that usually contains carbamide peroxide. Then, from the comfort of home, you use the solution in conjunction with the tray to whiten teeth through either overnight treatments or daily treatments, depending on the product.
Whitestrips: If you're looking to get a bit more out of an at-home teeth whitening system, Crest 3D White Classic Vivid Whitestrips provide a higher level of whitening. You'll start seeing visible results after only three days, with full results after just 10 days. Crest 3D White Classic Vivid Whitestrips also feature Advanced Seal technology, which keeps the whitening power of the strip where it belongs, preventing slippage. With Crest 3D White Whitestrips Professional Effects, you will achieve professional-level results from the convenience of home. These strips use no-slip, Advanced Seal technology with these four layers to make whitening at home easy. The backing layer keeps the whitening agent and the adhesive securely on your teeth, the whitening layer whitens and brightens teeth, the mesh layer keeps the whitening gel on your teeth and prevents it from spreading to other parts of your mouth and the release liner reinforces the strip with a backing for easy application.
Whitening Toothpaste: Whitening toothpaste is also widely used as an at-home teeth whitener. Whitening toothpastes generally use silica or other mildly abrasive materials to polish away stains and otherwise mechanically remove the stain from tooth enamel. Today, teeth whitening strips have become a popular at-home teeth whitener, and other products such as oral rinses are being made with teeth whitening agents as well.
Questions Related to At-Home Teeth Whitening
It's normal to have questions about at-home teeth whitening. Below are some answers to the most common questions, and remember that you can talk to your dentist if you need additional information.
Q. What's the Best Way to Whiten Teeth at Home?
The product you choose and your dedication to following a teeth-whitening regimen will dramatically impact your results. For the best way to whiten teeth at home, stick to a few simple tips to ensure you get the greatest results and wind up with your most beautiful smile.
Q. How Long Will Results Last When You Whiten Teeth at Home?
Many people wonder if the results actually last when you whiten teeth at home. Fortunately, advances in whitening products have been fairly progressive in recent years and offer noticeably whiter teeth for many months. In fact, when you whiten teeth at home, the results can last for up to 12 months. This simple and easy method for whitening offers a great way for the busiest people to get a beautiful white smile on their own terms.
Q. How Often Should I Whiten Teeth at Home?
While many products will keep your teeth white for months, the length of results does vary depending on your usage of coffee, tea, soda, tobacco, and other staining agents. When you whiten teeth at home, most products can be used safely several times a year, depending on the product and manufacturer's recommendations. When in doubt, consult with your dentist or contact the product manufacturer.
Q. What Can I Do While Teeth Whitening at Home? 
While kits designed for teeth whitening at home differ, most of them are fairly simple and allow you the flexibility to perform regular household tasks while whitening. Whitening strips typically require one or two applications per day, which can easily be worn while doing laundry, watching a sports game on TV, walking the dog, or even taking a shower.
Q. When Should I Do Teeth Whitening at Home?
Teeth whitening at home can truly be done at your convenience at a time that best fits your schedule. However, since you normally can't eat or drink while teeth whitening at home, it's best to whiten after your meals are done and you're well-hydrated. Some whitening treatments, such as Crest 3D White Classic Vivid Whitestrips, allow you to drink water while you whiten at home. However, many products do not offer this flexibility, so it's best to play it safe and read instructions carefully.
Q. Can I Combine At-Home Tooth Whitening Products?
You may wonder how much is too much when it comes to tooth whitening at home. If you're looking for your perfect smile, you may want to consider combining whitening products. For example, can you use whitening toothpaste at the same time that you use whitening strip products? The answer is yes. In fact, many manufacturers recommend using either a whitening toothpaste or whitening rinse twice a day to supplement the use of whitening strips. This will help you achieve your brightest smile and noticeably whiter teeth.
Not all tooth whitening, at-home products should be combined. Unsure of which whitening products or which combination of products will offer the best results? Your dentist can offer recommendations for tooth whitening at home to help you achieve the perfect smile.
Sources:
Eli I, Bar-Tal Y, Kostovetzki I. At First Glance: Social Meanings of Dental Appearance. Journal of Public Health Dentistry 2001; 61:150–154
Thompson L Malmberg J Goodell N Boring R. The distribution of attention across a talker's face. Discourse Process 2004; 38: 145–168
Van der Geld P, Oosterveld P, Van Heck G, Kuijpers-Jatman A. Smile Attractiveness. Angle Orthodontist 2007; 77: 759–765