TEETH-WHITENING
What are the Best Teeth Whitening Methods?

Different Teeth Whitening Methods Over-The-Counter Teeth Whitening Methods
Before you get started, take some time to determine your whitening goals and to evaluate the current condition of your teeth. Decide if you need subtle whitening versus dramatic whitening, and consider whether you have unique needs such as sensitive teeth. 
Different Teeth Whitening Methods
If you want a brighter smile, you certainly have many teeth whitening methods to consider these days. With dozens of methods available, it can be overwhelming and difficult to sort through all the information and compare the options. This comprehensive comparison should help make it easier to review the many teeth whitening methods available so that you can make an informed selection.
Option #1: In-Office Laser Whitening
This is one of the popular teeth whitening methods that some people believe is the most effective way to get a brighter smile. Using lasers and peroxide-based whitening agents in a professional setting, this teeth whitening method provides dramatic, lasting results. While the whitening results are great, you should also consider the cost. In-office whitening can cost up to $500 (lights and lasers), which may be prohibitive for some.
Option #2: Teeth Whitening Trays
You can get teeth whitening trays from your dentist or over the counter. You can achieve significant whitening using these whitening trays, which are filled with peroxide-based whitening gel that forms to your teeth. Professional teeth whitening trays can cost hundreds of dollars; over-the-counter versions are typically less than $50. The downside of using teeth whitening trays is that you can't drink while whitening.
Option #3: Teeth Whitening Toothpastes and Rinses
Another one of the many affordable teeth whitening methods is swapping out your regular toothpaste and mouthwash for whitening products. This simple approach can help remove surface stains and can also help prevent the build-up of future stains. Whitening toothpastes such as Crest 3D White Radiant Mint Whitening Toothpaste can remove up to 80% of surface stains in just two weeks for around $4. Products such as Crest 3D White Arctic Fresh Multi-Care Whitening rinse uses the same ingredients found in Crest 3D White Whitestrips and protects against stains while safely whitening your teeth for around $6.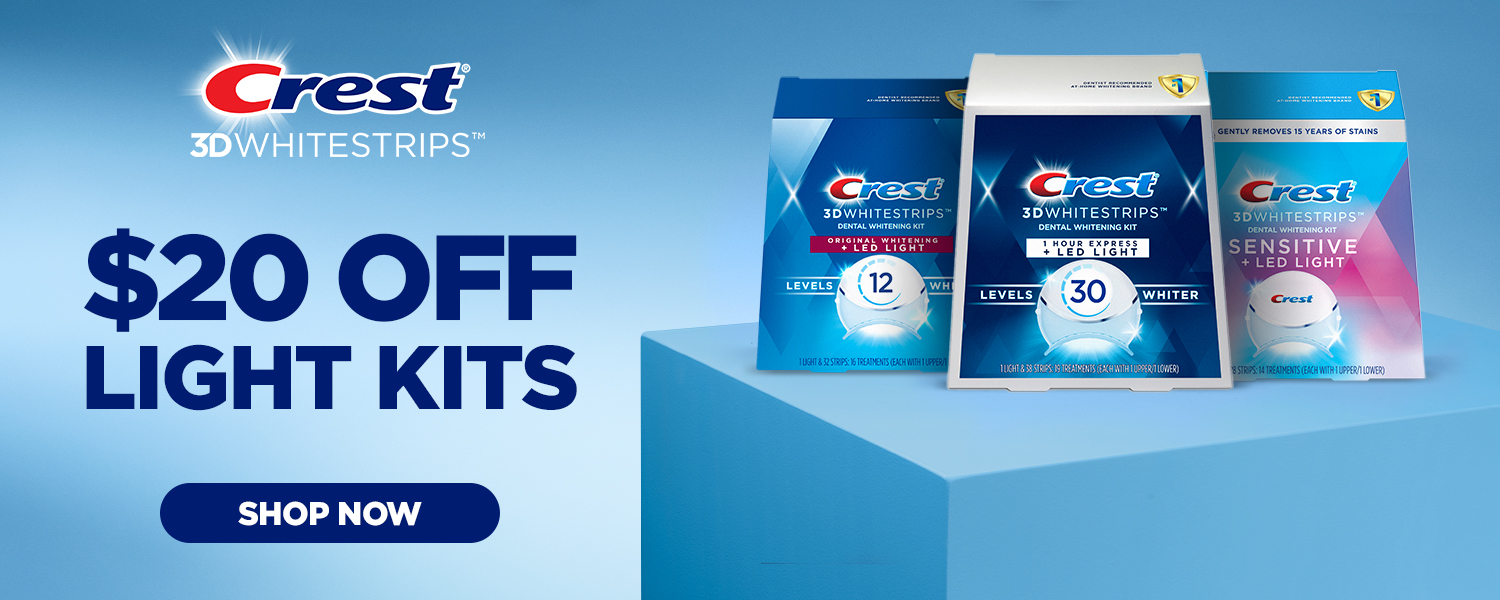 Option #4: Comprehensive Teeth-Whitening Regimen
Combining numerous teeth whitening methods into a comprehensive teeth whitening regimen is a great way to achieve a beautiful white smile and maintain the brightness for months. If you use a whitening toothpaste and rinse every day, combined with the use of an effective whitening strips system, you'll be amazed at the dramatic level of whitening you can achieve. It's also a good idea to look for a toothbrush that's designed to help with whitening. A good choice is Oral-B 3D White Luxe Pulsar Manual Toothbrush, which vibrates and polishes away surface stains on and between your teeth. When you combine the cost of all these products, you can get beautifully whiter teeth for around $60. The lasting results will be well worth the investment, and you'll likely be pleased with a new sense of self-confidence for months.
Option #5: Over-The-Counter Whitening Strips
One of the most common teeth whitening methods is the use of teeth whitening strips. These cost-effective, peroxide-based strips easily adhere to your teeth and provide varied levels of whitening, depending on what your whitening needs may be. The Crest 3D White Whitestrips product line includes different whitening strips that range in price from approximately $25 to $55. Each of these are detailed in the following section.
It's a good idea to first evaluate the current condition of your teeth by talking with your dentist, identify your whitening goals, and decide how much time you have to dedicate to a teeth whitening system. Then you can start looking for a product that can best meet your needs.
Over-The-Counter Teeth Whitening Methods
Over-the-counter teeth whitening has become an extremely popular way to quickly and easily whiten your teeth without spending a lot of time or money. With dozens of products available and many different methods for over-the-counter teeth whitening, it can be challenging to choose a product that will meet all of your whitening needs.
Crest Whitestrips make it easy to get whiter teeth and even use the same enamel-safe ingredient that dentists use. The strips are designed to hold the whitening ingredient against your teeth to get at the stains beneath the surface of enamel. Learn about each below:
Crest 3D White Whitestrips Sensitive + LED Light: If you have teeth sensitive to whitening, but still want a whiter smile, this may be the product for you. Using the same ingredient dentists use in a less concentrated formula, Crest 3D White Whitestrips Sensitive + LED Light offers subtle whitening in a mild formula to provide a whiter smile.
ADD TO CART - $70
Crest 3D White Whitestrips Classic White: Do you want basic over the counter teeth whitening and a visibly whiter smile? With 50% more whitening power than previous offerings, Crest 3D White Whitestrips Classic White provide noticeable whitening in a few weeks, and only requires a once-a-day application.
ADD TO CART - $35
Crest 3D White Supreme FlexFit Whitestrips: This product is over-the-counter teeth whitening at its finest. One of the most powerful whitening strips products available, Crest 3D White Supreme FlexFit Whitestrips whitens as effectively as a $500 in-office light laser system in the comfort of your own home and last all year long.
Crest Whitestrips is the #1 dentist-recommended teeth whitening brand in the U.S. And every Crest Whitestrips teeth whitening system is guaranteed to provide you with beautiful, visibly whiter teeth. If you are not satisfied with your results, Crest Whitestrips will refund your purchase. Simply return your receipt and package UPC within 60 days of purchase. Call 1-800-208-0169 for more information.
Which Product is Right For You?