TEETH-WHITENING
Affordable and Cheap Teeth Whitening Options

Cheap Teeth Whitening Starts with Good Oral Hygiene Cheap Ways to Whiten Your Teeth Other Tips for Cheap Teeth Whitening
You don't have to spend a fortune for whiter, brighter teeth. Before you consider spending $500 for a teeth whitening procedure at a dentist's office, consider several cheap teeth whitening products that you can use at home.
Cheap Teeth Whitening Starts with Good Oral Hygiene
The foundation of a cheap teeth whitening routine is a healthy mouth, because if you begin a teeth whitening regimen on an unhealthy mouth, it can result in problems that end up being very costly. A regular oral care routine of twice-daily tooth brushing and daily flossing is the key to maintaining a teeth whitening regimen.

Crest has developed an easy-to-use and cost-effective line of teeth whitening products: The Whiten + Clean + Protect Regimen. This regimen makes it easy to incorporate teeth whitening products into your everyday oral hygiene routine.

One great way to make sure your teeth are properly cared for is to always have the dental hygiene products you need close at hand. When stocking your medicine cabinet, here are the most important dental hygiene products you should always have available for healthy teeth and a beautiful white smile.
Cheap Ways to Whiten Your Teeth
There are a lot of whitening products on the shelves, but if you're just starting your search for the best way to whiten teeth, you may want to start with one of the most essential products.

Toothpaste
Whitening toothpastes are a good choice if you have sensitive teeth or if you are allergic to any of the bleaching ingredients in teeth whitening strips. They don't actually bleach your teeth, but instead they work by using dual-action silica to remove surface stains.

Cheap teeth whitening isn't a problem if you choose a quality whitening toothpaste:
Toothbrush
When it comes to cheap teeth whitening, think of a quality toothbrush as your top tool. This is one of the most powerful dental hygiene products of all. Brushing twice a day is one of the greatest ways to ensure your smile stays white and bright. It removes plaque, prevents tartar build-up, and keeps stains from building up on your enamel. Any old toothbrush won't do the trick though. Since brushing is one of the most important teeth whitening techniques, the toothbrush is key.
The Oral-B 3D White Vivid toothbrush removes daily stains on the surface of your teeth to help keep your mouth clean and your teeth bright, and costs approximately $6. 
The Oral-B 3D White Luxe Pro-Flex Manual toothbrush uses Micropulse™ bristles that vibrate and help to polish away surface stains. These bristles get into those hard to reach spaces in-between teeth that many teeth whitening products can't reach.
Mouthwash
Whitening mouthwash is another one of the great dental hygiene products to have available. Specially formulated ingredients help whiten your teeth while killing bacteria that causes bad breath and preventing plaque build-up. 
Crest 3D White Multi-Care Whitening Mouthwash helps whiten teeth safely and also kills the germs that cause bad breath. Using the same active ingredient as Crest 3D White Whitestrips, this rinse helps to whiten teeth, freshen breath, kill bad breath-causing bacteria, and protect against stains, all without the alcohol burn that comes with using some other mouthwashes.
Using Whitening Mouthwash in your oral routine, along with a whitening toothpaste and quality toothbrush, can help remove stains and whiten teeth, too. Get tips on choosing the best whitening mouthwash.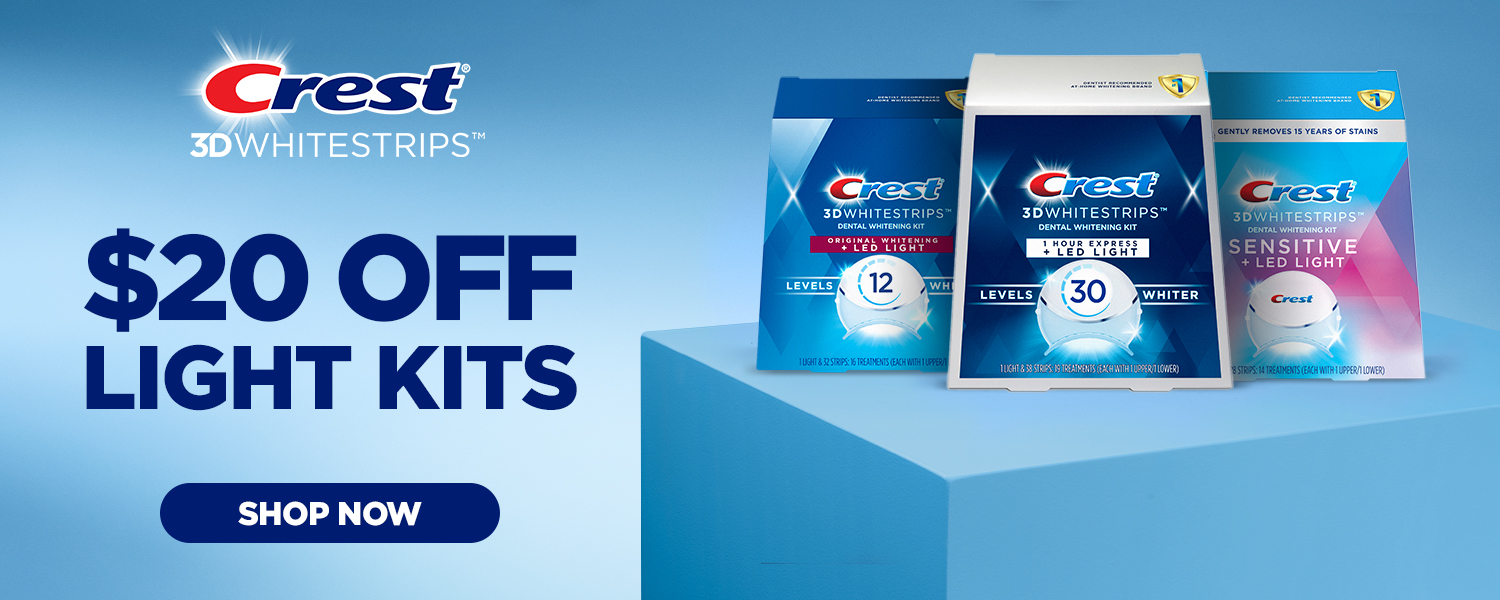 Other Tips for Cheap Teeth Whitening
Maintain your cheap teeth whitening routine by keeping these additional tips in mind:
Replace your toothbrush (or electric brush head) every three months, or when it looks worn.
Use dental floss to help remove food particles from between your teeth that can cause plaque and tartar. Flossing also helps prevent gum disease and bad breath.
Visit a dentist regularly to head off any dental problems before they become serious.
Follow the instructions on at-home whitening products to get the best cheap teeth whitening results.
Good oral health practices promote a healthy mouth, providing a better foundation for teeth whitening. When combined, these teeth whitening techniques can provide noticeable whitening on a budget. If you can spare another $25-$30, you can achieve dramatic whitening with a whitening strips program such as Crest 3D White Whitestrips Classic Vivid .